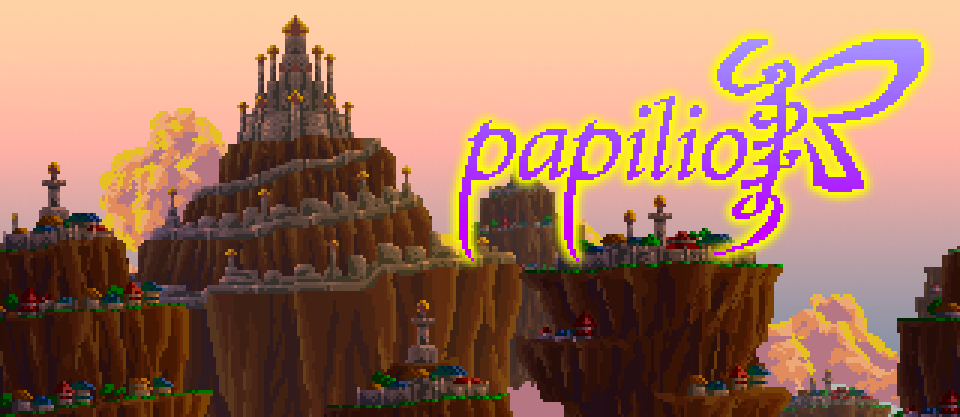 Papilio
A downloadable game for Windows
PAPILIO is a classic arcade style 2D shoot 'em up that takes you into a magical world being threatened by a mysterious entity with godlike powers. Take to the skies as a Naajira, a mystic warden with the power of magic-augmented flight and impressively devastating spells at your disposal, and engage in combat with fearsome creatures and mighty bosses as you pursue an opponent who seeks to unearth long-forgotten ancient magics and weapons for her own dark purposes.
IMPORTANT NOTE! This is a beta release of the game, and will feature additional content in future updates. So if you want to help support and test this game, feel free to purchase and download now so you can have access to later versions at no additional cost. Alternatively, if you want to try the game out for a spin before deciding on a purchase, please download the free demo below.
UPDATES (06-10-2019):
The True Final Boss is here! Clearing all 8 levels without continuing even once will allow you to finally challenge the relic thief, now supercharged with divine energy and wielding powers beyond anything you've ever encountered. Are you ready to engage her in a brutal fight to the death, and survive her mad thirst for vengeance? Or will you go down in flames as a testament to her wrath?
Global difficulty re-balancing! After receiving feedback from several players, a global re-balance pass for both the player characters and enemies has been initiated. Enemies now have different attack patterns based on the current dynamic difficulty rank, and weaker player weapons have also been bumped up in power output to match difficult encounters in later levels.
Standard Mode and Rank Off Mode have been switched: Standard Mode now disables rank, instead gradually increasing the game's difficulty per level up to a certain point, while "Rank Off" mode has been changed to "Dynamic Mode" which is the original Standard mode with dynamic difficulty enabled. To compensate for this, Standard Mode's per-level difficulty has been slightly increased.
UPDATES (03-24-2019):

Four new levels of mayhem! Descend into a graveyard of ruined vessels and alien structures filled with deadly traps, chase an armed derelict battleship across a lava-streaked valley and brave the extradimensional beasts and magnetic storms of the holy tower Dharmakshetra, before confronting the relic thief in her final assault on the floating capital city of Pankhon Kee Bhumi as she commandeers an ancient planet-shattering weapon to do her bidding. Can you muster up the courage and skill to fight through tons of new enemies and bosses in order to defeat her before she destroys the world?
New Training Mode! Having trouble with beating a level? Hone your skills with the new Training feature that allows you to select any level within the game and adjust the starting difficulty to fit your needs. Go easy on yourself or crank it up to the max--the choice is yours!
New Scoring System! Using your Astra (Bomb) while your shields are fully charged will deplete them in exchange for a 3x multiplier on all enemies killed before your shields can recharge. Getting hit while vulnerable will reset the score multipler to 1x. Will you play it safe, or dare to risk your life for bigger rewards and more extra lives?
FEATURES:
Gamepad and joystick support for fans of classic arcade and console games! Simply plug one in, run the game and begin the mayhem! (Now updated to support xInput and PS4 controllers!)
Single player and 2 player coop modes! Fly the unfriendly skies alone, or bring a friend with you to help do battle against the forces of chaos
Choose your arsenal from three different weapon satellites, each with its own set of unique magical attacks and powerful screen clearing bombs, and find out for yourself which combination fits your playstyle!
Fly through eight vibrant levels filled with dangerous enemies, and challenge powerful and crafty bosses as you uncover a dark plot to unleash forbidden ancient weapons against your land!
Master the game's dynamic difficulty in order to both challenge yourself and score bigger points! Take it easy by playing it safe, or go all out and see how far you can push the difficulty!
Multiple game modes! Hone your skills in Survival Mode and see how long you can last against endless hordes of increasingly tougher enemies, turn off the dynamic difficulty and enjoy a more relaxed game with Rank Off Mode, practice individual stages and sharpen your techniques in Training Mode, or take the game to the extreme and challenge yourself with the relentlessness of Asuratva Mode...the choice is yours! (not available in the free demo!)
Hidden bonuses are scattered about the levels! Try and discover them for massive rewards--if you dare. Because you might end up taking on a bigger challenge that you ever dreamed of... (some hidden content not available in the free demo!)
DEFAULT CONTROLS (can be changed by going to the Settings menu):
Keyboard Player 1
Z: Shoot Left (also Left Mouse Button in 1P Mode)
X: Shoot Right (also Right Mouse Button in 1P Mode)
C: Use Astra/Bomb (also Middle Mouse Button in 1P Mode)
Enter: Pause
Up Arrow: Move Up
Down Arrow: Move Down
Left Arrow: Move Left
Right Arrow: Move Right
Keyboard Player 2
Z: Shoot Left
X: Shoot Right
C: Use Astra/Bomb
Enter: Pause
Up Arrow: Move Up
Down Arrow: Move Down
Left Arrow: Move Left
Right Arrow: Move Right
Mouse (either player)
Left Mouse Button: Shoot Left
Right Mouse Button: Shoot Right
Middle Mouse Button: Use Astra/Bomb
Enter: Pause
Mouse Movement: Move Character (character follows cursor)
Joystick (either player)
☐ (PS) / X (X360): Shoot Left
◯ (PS) / B (X360): Shoot Right
△ (PS) / Y (X360): Use Astra (Bomb)
Start: Pause
Left Analog / D-Pad: Move character
NOTE: Under normal circumstances, Players 1 and 2 cannot both use Keyboard control at the same time. If one player is on Keyboard, the other will automatically be assigned to Mouse (default: P1 is Keyboard, P2 is Mouse). Also, both Keyboard and Gamepad controls may be reconfigured through the Settings menu.
Please feel free to send feedback via PM or email at coololdguygames <at> gmail <dot> com, or you can follow my personal IndieDB site where I regularly post blog entries and project updates. If you have any comments, criticisms and/or suggestions, I'd love to hear from you!
Purchase
In order to download this game you must purchase it at or above the minimum price of $2.49 USD. You will get access to the following files:
Download demo
Comments
Log in with itch.io to leave a comment.
Do you have any plans on releasing this on Steam?
Yes, I plan to release it as a budget game on both Steam and GOG. :) However, I'm still trying to get it to a stable, near-feature complete version before I do so, as well as attempting to raise enough funding to pay the required fees
Yes! That's awesome. Would buying the itch.io copy also provide a key for Steam when it gets released?

Yes, I'll make sure of it. :)
Thank you. Easy purchase, then.

Hope it brings closer to supporting your venture!

Amazing Fantasy Shoot em up, Beautiful colorful graphics, Love the variety of enemies & cool bosses, great weapons & controls, nice music, totally Awesome game, keep up the Fantastic work, both thumbs up from me & purchased :)